Hey guys :] I just found this community. While some of you will recognize my username from the other horse-related communities i'm in, some of you may not. >]

My family owns 2 American Saddlebred show horses, that we show in Saddleseat. My current horse, is He's Come Undone aka Phantom, i show him in Juvenile 5 Gaited classes. The other horse my family owns is my sisters current Country Pleasure Horse, Just Stylish aka Justin, who actually was my 2nd horse >D

Justin is the horse that really taught me how to show, and how to ride. I catch rode him as a 10 year old for a lady named Kathy that owned him, because she couldn't go to Louisville (world champs) .. We got 3rd in the 11 & Under Show PLeasure class - which if you didn't know, ,is a big deal. Since then Justin has turned into my sister's Country Pleasure horse, after her horse, Sox, tragically died last year.

Phantom is my baby. He's a 6 year old 5 gaited horse, that i'll be showing until i go to college in Junior Exhibitor classes. So far this year, we've shown in 2 shows - our 1st show, and 1st class Phantom blew off his feet trotting, so we didn't get a ribbon. In the championship, we didn't quite get forgiven for our qualifying mistake, and the judge gave me a pretty pink 5th.

From there, i've been to one other show, Mid South. Although the smallest show we go to during the year, i'm still so proud of my wins at this show. I beat 2 other horses in both classes, BUT at the same time, had 2 clean rides, and 2 good "showing" rides. Does that make sense?

Attached are some pictures - Oh yeah, did i mention i'm big into Horse show photography? I've been taking pictures for a year now at horse shows and giving them to people that i take them of..
My next show is Germantown Charity, and unfortunately most of the saddlebred classes are at night - its too dark at Germantown to take p ictures at night >/ So ...I'll still be taking Hutnseat/Jumping pictures during the day. If anyone here is going to Germantown, please just lemme know - and i'd be more than happy to take pictures of you and your horse >D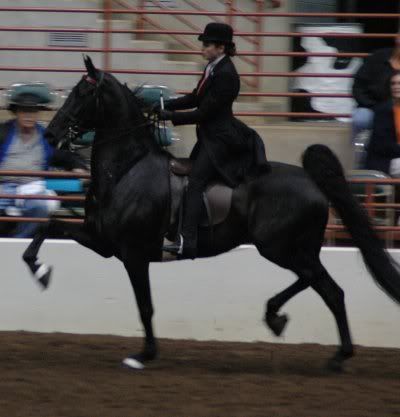 Phantom & I at our first show - Pro Am. He looks pretty doggone good, yes?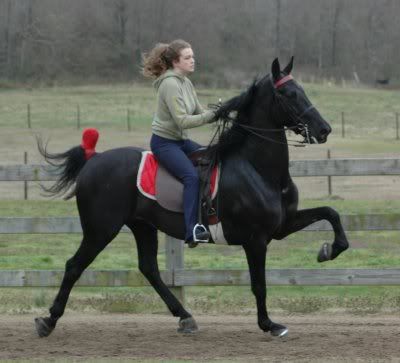 Phantom racking at the barn. >D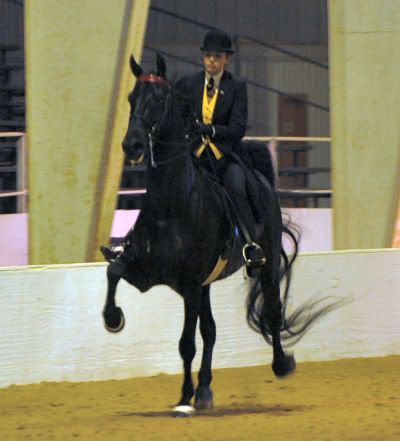 This picture is from our Championship class at MidSouth. He's racking here >D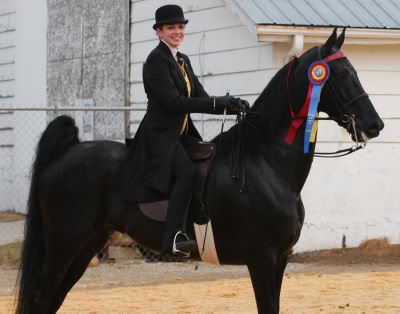 After the class, Phantom& i with our prettyful tricolor.

I wish i could scan the proofs that we got at MidSouth they're out of this world, but unfortunately i would get into a great bit of trouble with the photographer if i did that >[

Feel free to AIM me at JustStylish anytime - i love meeting new people >D Especially horse people (because secretly they are the best kind, regardless of what everyone else thinks)